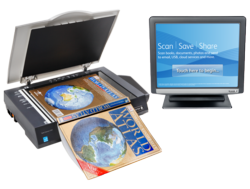 (PRWEB) June 19, 2012
Electronic Systems Inc., a Virginia-based company known for its expertise in working with organizations in the public sector, will distribute the Xerox BookCentre, a self-service book scanning kiosk that makes book scanning faster and easier. The announcement was made by Scannx LLC, a leading developer of cloud-based document capture and document delivery software and services, which works with Xerox to develop, market and support the new line of Xerox-branded self-service book scanning systems.
ESI, acquired by Xerox in 2007 is the mid-Atlantic regions largest provider of customized and scalable technology solutions. The partnership with ESI will make it easier for libraries and other organizations to obtain their document scanning, book scanning and office technology solutions from a single source that specializes in public sector market requirements, said Scannx Chief Operating Officer John C. Dexter. "The Xerox BookCentre enables library patrons and staff to quickly and easily scan from books and send the scanned pages to email, smartphones, tablets, Google Docs, USB drives, fax or print them by selecting the desired option on the touchscreen computer.
The Xerox BookCentre product line, available in the United States and Canada, will be shown at the American Library Association conference on June 22-25 in Anaheim, CA at Scannx booth #727.
We are committed to meeting our customers needs and expectations while at the same time, providing them with the newest technologies at the best prices, said Jeff Jenney, ESIs director of sales. The Xerox BookCentre offers very powerful, yet easy-to-use and innovative solutions for the library market at very competitive prices.
The Xerox BookCentre includes a 17-inch touchscreen computer, the self-service scanning software powered by Scannx, an 11 x 17 patented book-edge scanner to protect the spine of the book from damage, and the ABBYY FineReader Technology for unmatched optical character recognition accuracy. Other features: